Godalming's Rabbit Woman: Mary Toft's great 18th-century hoax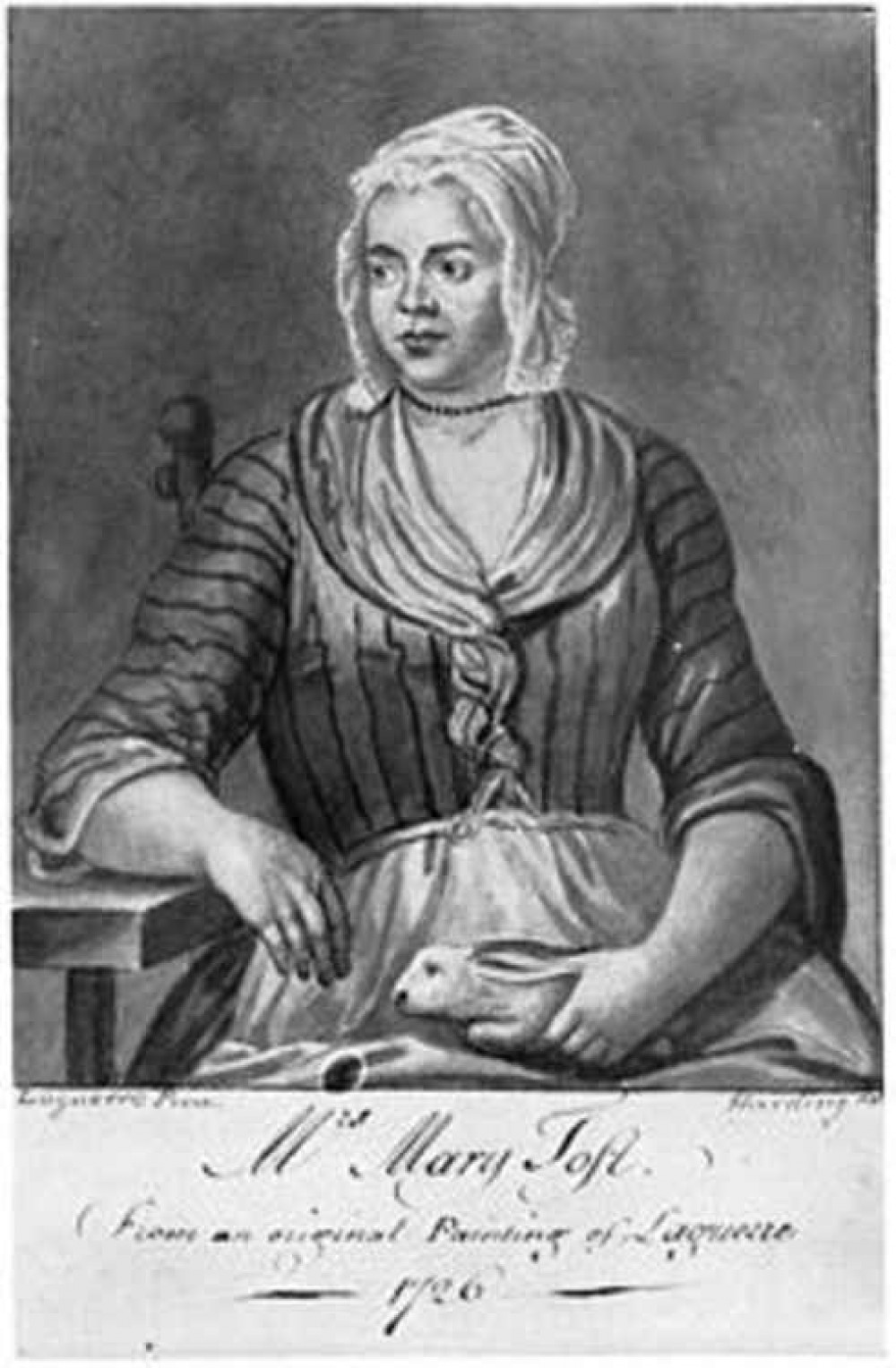 Mary Tofts with rabbit in an engraving by William Hogarth. Photo: Wikimedia Commons.
No register of Godalming's Great-and-not-so-Good would be complete without Mary Toft, or Tofts, aka the Rabbit Woman of Godalming.
But was Mary a shyster, chasing fame and fortune, or merely a poor deluded soul whose bizarre claims far more attention than she had bargained for?
Whichever it was, Mary's claims hoodwinked several prominent medical men of the day, culminating in red faces all round, careers destroyed and reputations shredded - apart from Mary, who arguably had little to lose, and slipped back into her old life in the quiet country town of Godalming once it was all over.
Mary was born Mary Denyer in Godalming in around 1701. In 1720 she married Joshua Toft, or Tofts, a master clothier, and went on to have three children - Mary, Anne and James. It was while she was pregnant with the couple's fourth child, in 1726, that the whole bizarre episode began.
While labouring in the fields Mary and her fellow workers saw and chased after a rabbit - presumably intending to capture it for the pot. The rabbit got away, but Mary became seized with "such a Longing to it, that she (being with Child) was taken ill and miscarried, and from that Time she hath not been able to avoid thinking of Rabbits," according to the Weekly Journal of 19th November 1726.
Mary suffered complications with the pregnancy, and in August of that year began exhibiting symptoms of foetal abnormality, passing blood clots.
In September she went into labour, and produced several animal parts, which her neighbour, who was present, took to Mary's mother-in-law, Ann, who happened to be a midwife. Ann took them to John Howard, an experienced male midwife who lived in Guildford.
Sceptical at first, John visited Mary the next day, to find she was still producing animal parts at a stupendous rate. A contemporary account reports they amounted to "...three legs of a Cat of a Tabby Colour, and one leg of a Rabbet: the guts were as a Cat's and in them were three pieces of the Back-Bone of an Eel ..."
Bemused, yet convinced of the veracity of her story, Howard had Mary moved to Guildford, where she was visited by Henry Davenant, a courtier to King George I.
Several other medical men, and two more of King George's courtiers, visited Mary in Guildford: all the while she was producing rabbit parts, as well as whole baby rabbits - much to their bewilderment.
In an escalation of the case which even Mary had probably never forseen, she was taken to London on the orders of the king, and examined by his own surgeon. Suspicion was growing, and the men began to divide into two camps - those who believed Mary was truly delivering rabbits, and those who suspected a hoax. And all the while the rabbits kept coming: a total of 17 was recorded.
News spread, and Mary's 'rabbit births' became a sensation: the popular prints of the day reported on the case and crowds flocked to see her.
The relentless pressure eventually culminated in Mary breaking down and confessing to faking the whole thing - her cause lost when it was discovered her husband had been buying rabbits and giving them to his sister to smuggle into Mary's room.
She claimed the idea for the hoax had come from a travelling woman, who had told her the scheme would guarantee she would 'want for nothing' for the rest of her life - fame and fortune, in other words.
She was marched off to prison, appearing in court in Westminster on 7th January 1727, charged "for being an abominable cheat and imposter in pretending to be delivered of several monstrous births".
The case wasn't proceeded with, and Mary was released to return to her old life in Godalming in April 1727. The following year she gave birth to another daughter, Elizabeth, with the entry in the parish records noting that the child was the "first child after her pretended Rabett-breeding."
Mary's story became the subject of several pamphlets and songs, and the satirist William Hogarth even immortalised her in several engravings.
She found herself in court again when she was jailed for handling stolen goods in 1740, the goods in question being chickens.
The fallout for the famous medical men was immense, with several suffering ruined careers and prolonged court action as a result of Mary's duplicity. John Howard, the male midwife from Guildford, was fined a massive £800 for his part in the affair, the equivalent of around £95,000 in today's money.
Mary died in January 1763, taking with her to the grave her reasons for embarking upon such a hare-brained scheme. It's not known where she was buried.