REWIND: The rise and fall of Godalming's private banks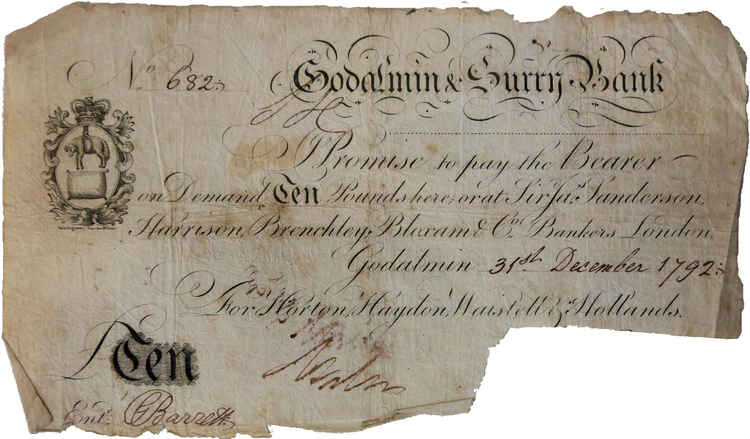 A £10 note issued by the Godalmin and Surry Bank in December 1792. Photo courtesy of Godalming Museum/Trevor Howard.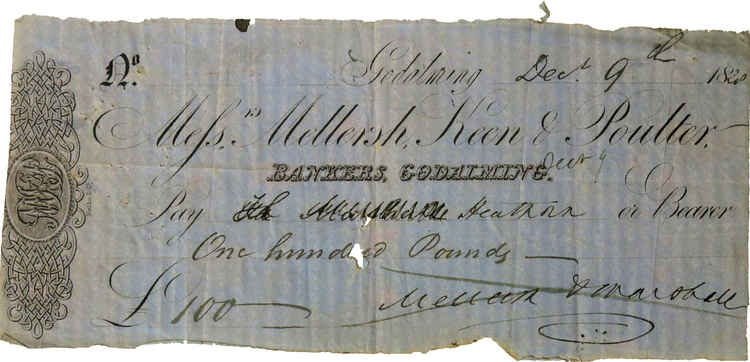 A cheque drawn on Mellersh, Keen and Poulter in 1828. Photo courtesy of Godalming Museum/Trevor Howard.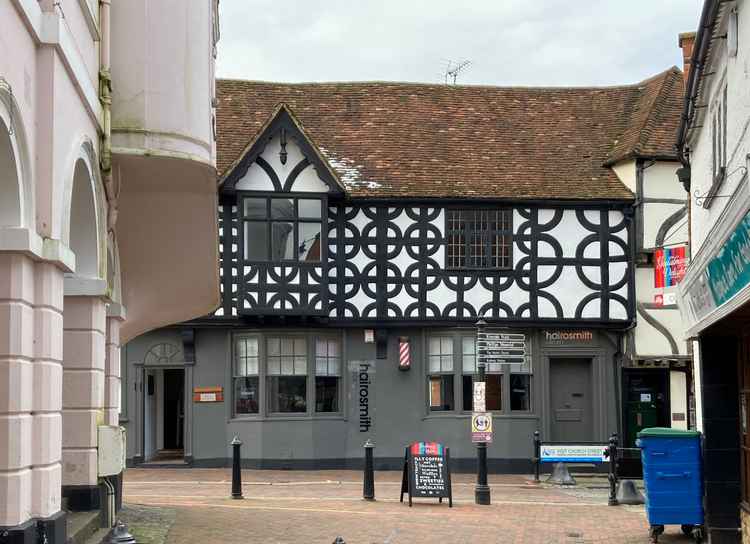 Moline & Co is believed to have been at 1 Church Street.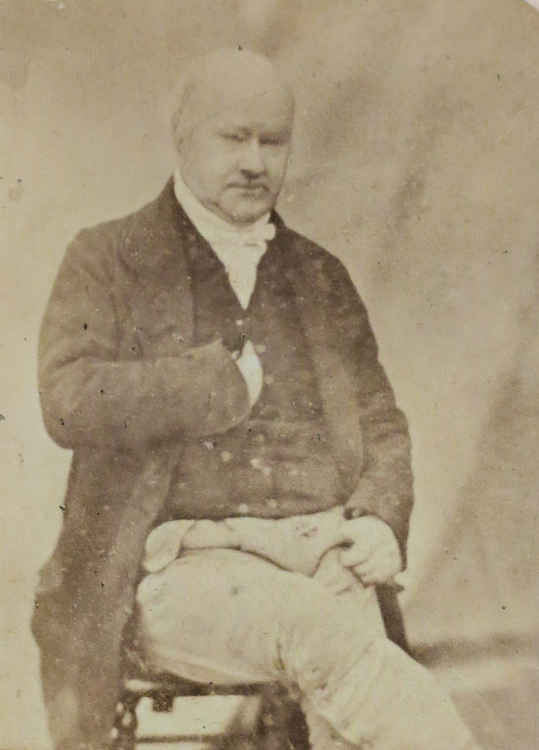 Thomas Mellersh. Photo courtesy of Godalming Museum/Trevor Howard.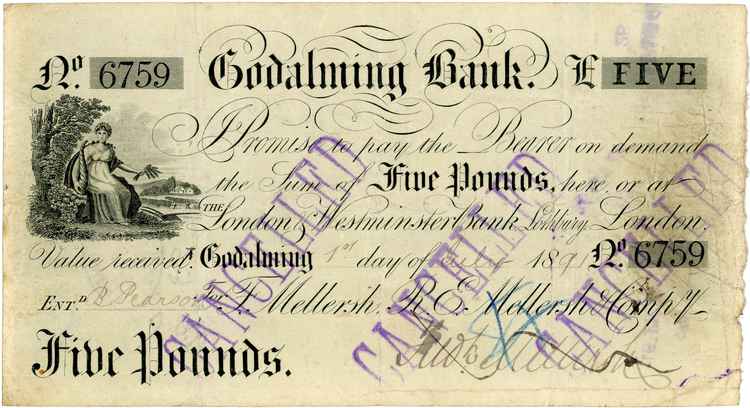 A Godalming Bank £5 note, issued in 1891.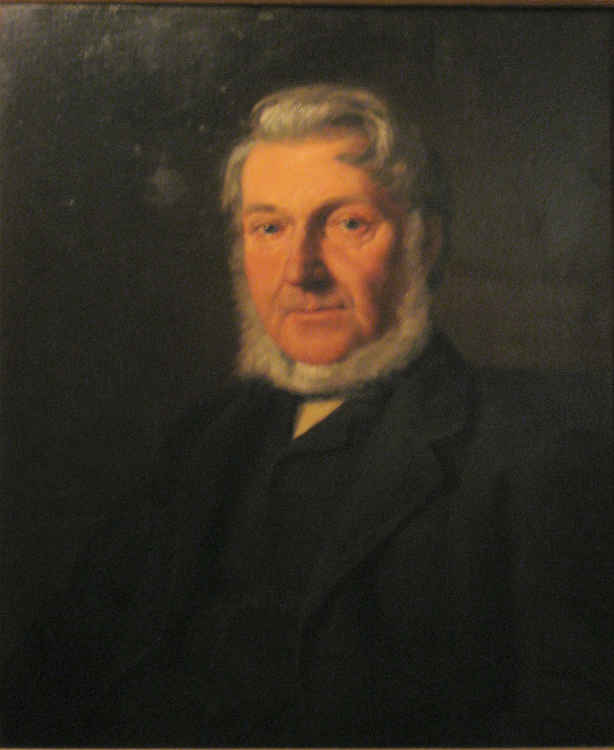 News that HSBC is set to close its Godalming branch in the summer, following hot on the heels of Barclays leaving the town, has caused some concern that the town has lost many of its banking facilities.
But did you know that Godalming used to have its own locally-owned bank? Not just the one either - there have been three private banks in the town over the years.
They were set up and run by respected local gentlemen, who lent money on behalf of local businesses keen to get a return on their cash or buy new mechanical equipment during the Industrial Revolution.
Banking history expert Trevor Howard has kindly shared his expertise on the subject of the locally-owned banks that once oiled the wheels of commerce in our town.
Until the mid-18th century most private banks were located in the City of London: although a few had them, they were not a common feature of provincial towns. But by 1798 there were just over 300 country bankers.
Mr Howard writes:
"Those banks situated outside London were known as 'country' or 'provincial' banks. Nearly all provincial banks would have had a London agent, who would deal with stockbrokers, bill discounters and acceptance houses on their behalf. "Many provincial banks were started by businessmen as a means of generating capital for investment. Agricultural banks for example were created to generate the required capital for the mechanisation of farming. "Anyone who had large sums of money lying unused for a period of time was tempted to start a bank. Brewers, for example, had perhaps six months grace on paying malt duties to the Government. This money could not be invested in their businesses but it could be used to support the issue of banknotes. The issue of banknotes was equivalent to money borrowed free and lent at interest." The first private bank in Surrey appeared in Guildford in 1765, and similar institutions sprang up all over the county: in Godalming, Farnham, Chertsey, Kingston, Reigate, Dorking and Croydon.
The majority were formed between 1790 and 1810.
Godalmin & Surry Bank
A solitary bank note,issued in 1792 and worth £10, and some watermarked banknote paper are the only surviving evidence of the Godalmin & Surry Bank (sic). The signatories on the note are Messrs Horton, Haydon, Waistell and Hollands. William Horton was a wealthy hosier in London who had gone into business with Charles Waistell, also of London, and Henry and George Holland of Godalming. Henry and George Holland were listed in 1790 as 'manufacturers of patent fleecy hosiery'. Richard Haydon was a Godalming-based grocer. The bank was formed sometime between 1787 and 1790 and had ceased trading by 1799.
Moline & Co.
Moline & Co was founded in 1808 by Godalming men Robert Moline, Thomas Mellersh and James Weale. Moline was a grocer and corn dealer, James Weale was a mercer and linen draper, and Thomas Mellersh was an attorney and solicitor.
The original agreement signed by the three men was to run the institution for 14 years, but the partnership was dissolved in 1814, with Mellersh leaving to set up the rival Godalming Bank.
Moline and Weale continued in partnership, operating from premises in Market Place - thought to be No. 1 Church Street. Robert was joined by his sons, Benjamin and Robert junior, around 1820. The bank ceased trading in May 1841 and was probably absorbed into Thomas Mellersh's Godalming Bank.
Godalming Bank.
Godalming Bank was set up by Thomas Mellersh in 1814 in a building on the corner of the High Street and Great George Street. He had gone into partnership with Richard Kidd junior and Benjamin Kidd (nephews of Robert Moline).
In 1846 Thomas's son, Frederick Mellersh, joined the partnership.
The bank issued its own notes, in denominations of £1, £5, £10, £20 and £50.
In 1828, Richard Kidd Jnr and Benjamin Kidd left the partnership and were succeeded by William Keen, gentleman, and William Poulter. Poulter didn't stay with the bank for long, resigning in March 1830.
In December 1856, there was a daring robbery at the bank, during which about £290 in silver coin was stolen. Although the bank manager and his family were in the building at the time, they heard nothing while the raid was taking place.
Following the robbery, the bank moved to new premises at 49 High Street – the current home of Lloyds Bank.
In 1856, William Keen became 'disordered in his mind' and was placed in an asylum for five months. In August 1858 he again became of unsound mind and, in September, was again placed in an asylum, where he remained for the rest of his days. Thomas and Frederick dissolved the partnership with him in December 1858. Keen died the following year.
Thomas Mellersh continued to run the bank until he died in 1870, aged 87. Frederick was joined by his younger brother, Robert, and they carried on the business, opening branches in Guildford and Haslemere between 1874 and 1881.
Robert Mellersh died in February 1893 and Godalming Bank was taken over by Capital & Counties Bank, by an agreement dated 10th June. Frederick Mellersh died on 16th June.
None of the 29 private banks that were started in Surrey lasted beyond the turn of the century. Two were taken over by Barclays Bank, two by Lloyds Bank and three into the National & Westminster Bank. Two were absorbed into the English Joint Stock Bank, which later failed. All of the others failed or ceased trading.
However, a walk down Godalming High Street today still takes you past places that were once pivotal in the commercial life of our town: one can still imagine the ledgers, books, papers and notes that passed between hands in those places, making money for their founders and investors, and for those astute enough to join them and take advantage of their services to run their own ventures.
Godalming Museum has papers relating to Godalming's private banks, including banknotes, cheques, newspaper cuttings and a full version of Mr Howard's article.